GAYLE's BIO-THERAPEUTIC FACIAL
Using BT cocktail™ of ATP (Adenosine Triphosphate) Tools and technology from: BT-Analyze™, BT-Micro™ and BT-E 2000 Toning Machine
(1 hour 45 minute treatment $165. Series of 4 treatments $625 = $35 Savings.)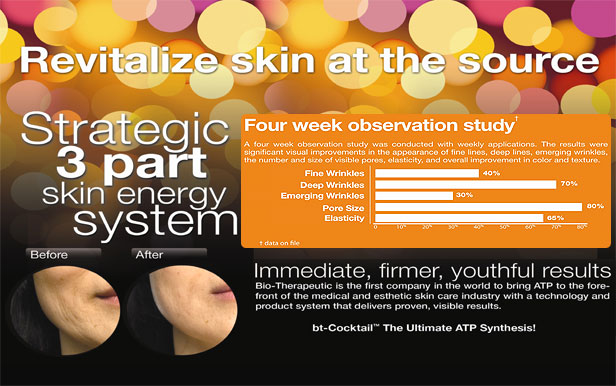 Simply put, Gayle uses the "BT" products with ATP with all of the Bio-Therapeutic tools listed above in a full 1 hour 45 minute facial treatment. Her new tools with ultrasound, microcurrent for mini lifts and ionization provide the ultimate in immediate firmer, youthful, healthy "resultz" for all skin types. Since one picture says 1,000 words, here are some images with brief descriptions so you can be assured this is an extremely beneficial, effective yet safe and positive experience for her clients. Also, be sure to read some of the "testimonials" at the end and book your appointment with Gayle for your BT Facial (a series of 4 medically proven to deliver the best results).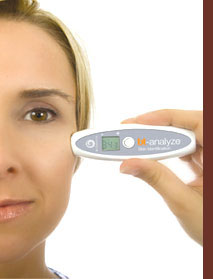 (Left) The BT-Analyze™ is a moisture analyzation meter that utilizes bio electric impedance technology with a newly designed and engineered skin membrane sensor. When placed on the skin, a low level of current is utilized to measure the conductivity, resistance, and the time in which it takes to obtain the reading. These measurements are calculated against an internal database of statistics to determine the exact final numerical result. The BT-Analyze™ has been proven to assist the skin therapist (Gayle) in gaining factual bio-marker measurements for each of her clients in multiple areas of the face, neck, and décolleté. These measurements, in conjunction with Gayle's visual and physical examination of the skin, greatly refines her ability to prescribe specific products and services. Also, Gayle's 20+ years in skincare (to include her work experience in medical offices) used in concert with this type of technology provides the ultimate in services for her clients.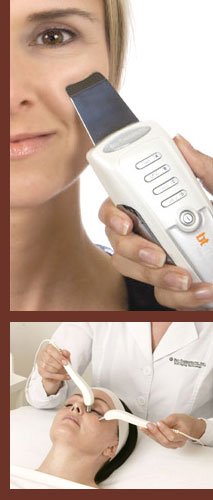 (Right) The BT-Micro™ is the lastest rage in hand held professional technology and combines ultrasonic peeling with microcurrent product penetration capabilities. BT-Micro™ ultrasonic exfoliation works with high speed (24,000Hz) oscilliations of the flat metal probe and BT-Ceuticals "Cleanse" and "Exfoliate" which greatly enhances the natural exfoliation process of the stratum corneum. The results are amazingly clear and smooth skin that is ready to accept strategic topical energy.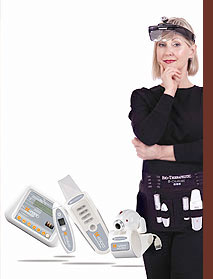 Gayle has been using the BT E-2000 Toning Machine for over 18 years. She is considered a professional role model with her experience in Toning procedures and results. The new BT tools that she has now incorporated with her Toning Protocol gives the client a fabulous experience. All ages with all skin types can receive measureable positive visual improvements. Medical studies prove a series of 4 or more treatments within a 6 week timeframe deliver the most desired outcome.

TESTIMONIALS
From Gayle's clients on Bio-Therapeutic Facials (BT Facials)
and other her other signature Facials
"I have oily and acne-prone skin. To correct my skin issues, I did a series of facials with Gayle. She did the Bio-Therapeutic facial with ATP, using her new tools that incorporate ultrasound, microcurrent, and ionization. It felt soothing and my skin afterwards is tight; my acne and oiliness have greatly improved! The facials were the best I have ever received."
"Tony B."

"I'm new to Santa Cruz area and very happy & lucky that a co-worker referred me to Gayle at Body Resultz for my skin care needs. My first facial with Gayle was so fabulous I just wanted the exact same facial on my second appointment but she described the BT Facial and said it would be highly beneficial for my skin condition. WOW! It was wonderful! Not only did it get rid of my breakout areas, my skin looked and felt smooth, tight and somehow "lifted". From now on, I will get a series of 4 BT Facials, then one of Gayle's "Euro Plus, Plus Facials, then another series of 4 BT Facials & on & on.
"Bonnie T."

"I was a little skeptical when Gayle suggested trying a Bio-Therapeutic Facial but I trust her implicitly that I gave it a try. I expected that I would feel good after my facial, as I always do after a facial with Gayle. However, I didn't expect that my skin would look and feel even better several days afterwards. My skin was smooth, toned and glowing. My granddaughter commented on how pretty and soft my skin was - right from the mouths of babes! It was a delightful experience!"
"Zee"

"I bet I'm the only guy writing about how happy I am with these "BT Facials" as Gayle calls them. I'm in sales and I want to look my best not only for my job, but for my girlfriend as well. Well, I'm getting a lot of compliments from my clients and best of all... my girlfriend says I look awesome for several days after each treatment and soooo much better overall than before!"
"Jason R."

"I have mature, slightly dry skin and I have always loved all of Gayle's facials that I receive every 5 weeks or so. I'm not "big on change", but after seeing Gayle's literature on the BT FacialsÉ..I decided I was missing out. I have had my first 2 of the 4 BT Facials series and my husband & my friends are all confirming what I see in my mirror - What a visible improvement!! I'm excited to have my next 2 BT Facials in my series."
"Janet S."